With a half day off from work, I headed to Birmingham earlier today to visit my sweet sister for some shopping and dinner.  We, of course, ended up at Anthropologie.  And I, of course, wanted everything.
Like these adorable dish towels…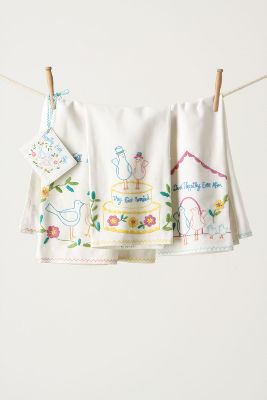 I just love these towels!  I bought them for my sister when she got married, and somehow never got a set for myself.  And now I'm thinking of a little craft project and a little do it myself.  Because you can never have too many cute kitchen towels!
I'm also thinking of doing this somewhere in my house.
Sure I could just buy it, but where's the fun in that? Here's hoping there's a perfect frame in my new stairwell art gallery that I'll share with you tomorrow.